Protect + Integrate All Storage & Clouds
Eliminate Vendor Lock-in
---
StorageFabric™ unifies and protects your data across on-prem and tens of cloud-based storage services. Storage services never see your keys or plaintext data. Data breaches simply do not affect you. Your client apps can run both in the cloud or on prem.
Have providers compete for you. Access deeply discounted cloud-scale pricing.
No gotchas, fees, or hidden costs. Straightforward and clear deployment, pricing and benefits.
Deploy a resilient multi-continent architecture in hours.
Built-in Multi-layer Encryption, military-grade Integrity, global Visibility, Complex Access Control, Information Flow and Compliance Policies.
Whether for high availability, high performance, disaster recovery, eliminating downtime, or price, use all clouds and tens of on-prem providers at the same time.
No more downtimes. Fail over, react and migrate in seconds between tens of independent backends.
Benefit from next-gen parallel secure data access protocols, dynamic compression, smart deduplication, aggressive caching, intelligent traffic optimization, and Sparse Volumes™.
Control your perimeter and monitor your data flow with content inspection, advanced access control mechanisms, and global visibility. Prevent and react to unauthorized accesses in real time.
Built-in global scale-out. Deploy efficiently enterprise-wide across multiple continents.
No more downtimes. Fail over, react and migrate in seconds between tens of independent backends.
No need to train for new APIs or use special tools. Users love the ease of adoption.
Free users and admins from having to understand or enforce policies, including quotas, data placement, security, and compliance policies.
Easily provision resources and connect into provisioning and management workflows.
Eliminate impact of backend outages and bugs with a multi-backend architecture.
Use existing enterprise identities and credentials for unified access and policy management.
Deep-inspection Content-based Access Control prevents information leaks and breaches.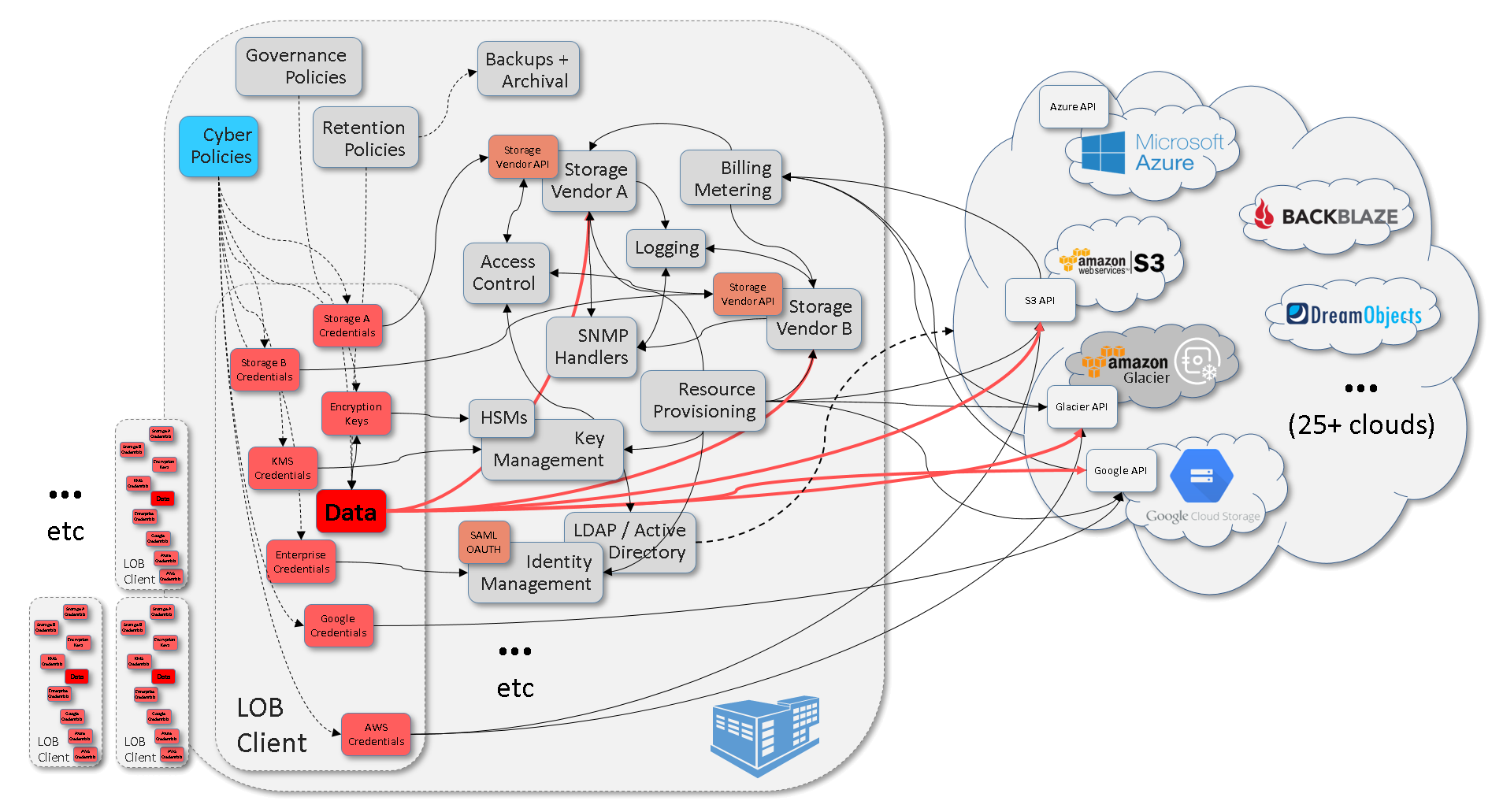 ---
What Happens Today
Today clients are saddled with tens of provisioning, security, credentials, and management responsibilities. It is difficult to get unified common policies and governance enforced enterprise-wide. Allocating and accessing storage takes weeks, and sometimes months, and then clients are bound to make mistakes and put the enterprise and sensitive data at risk.
Unified Everything
StorageFabric™ integrates, protects and unifies everything.
Highlights
Unified Credentials + Access Control
Unified Virtual Storage Namespace + APIs
Data location can be transparent to clients
Unified Protection + Integrity
Unified Policies + Visibility
Unified Billing + Metering
Clients can be in cloud or on prem
---