Software-Defined Storage Unification Fabric


Achieve Agility. Slash Costs. Protect Data.
Integrate storage on premise and/or across clouds.


Integrate and protect enterprise-scale data storage across both on-prem and in-cloud deployments, while also driving down costs. Cloud or on-prem clients use standard APIs to access storage globally. Everything is protected and breaches simply do not impact data. A full scale-out architecture enables ultra high performance with multi-Tbps speeds.


Contact Sales Learn More Download Brief

---

High Performance On-Demand SAN


When You Need It. Where You Need It.
No Footprint. Cloud-Backed.


High-performance, vendor agnostic, multi-cloud solution delivering low-latency, redundant enterprise SAN volumes on-premise without any physical storage footprint. This hybrid cloud storage solution can be deployed on existing hardware or dedicated appliances.


Contact Sales Learn More Download Brief

---

Next-Gen IT Infrastructure Protection


ENFORCER™ is the world's first general-purpose NIST FIPS 140-2 Level 4 tamper-proof1 secure server. Initially designed for US military and homeland defense applications, ENFORCER servers are available for commercial applications where security is paramount.
(1) Certification Ongoing

Contact Sales Learn More Download Brief

---
Enterprise Storage Solutions
Secure and integrate your data plane and slash costs

Data Plane Agility and Protection

StorageFabric™ is a high performance full scale-out platform that unifies and protects storage across on-prem and cloud-based providers. Clients use standard APIs to access storage globally. End-to-end protection ensures breaches do not impact data.

Learn More
Download Brief

High Performance Cloud-Backed SAN

High-performance, vendor agnostic, delivering low-latency, redundant enterprise SAN volumes on-premise without any physical storage footprint. Petabytes to thousands of clients at terrabits per second from a quarter rack.

Learn More
Download Brief
"I am ecstatic of the great work […]
hats off to private machines […] major kudos."

Top Global Bank

"I'd like to compliment you all on the quality […] your documentation and install procedures […]
significantly better than other vendors that I have dealt with of late and is a welcome change."

Major Financial Service Client

"I cannot thank you all enough for your hard work and dedication to make this happen. […]
often went out of their normal roles and assisted in other areas to ensure success."

F50 Enterprise

"I look forward to working with you […] in the future
as we continue to grow and evolve the service."

Major Banking Customer
Next-Gen Infrastructure Protection
World's Most Secure Server. Protected Confidential Execution.
High-Performance. Tamper-Proof. Cloud Ready.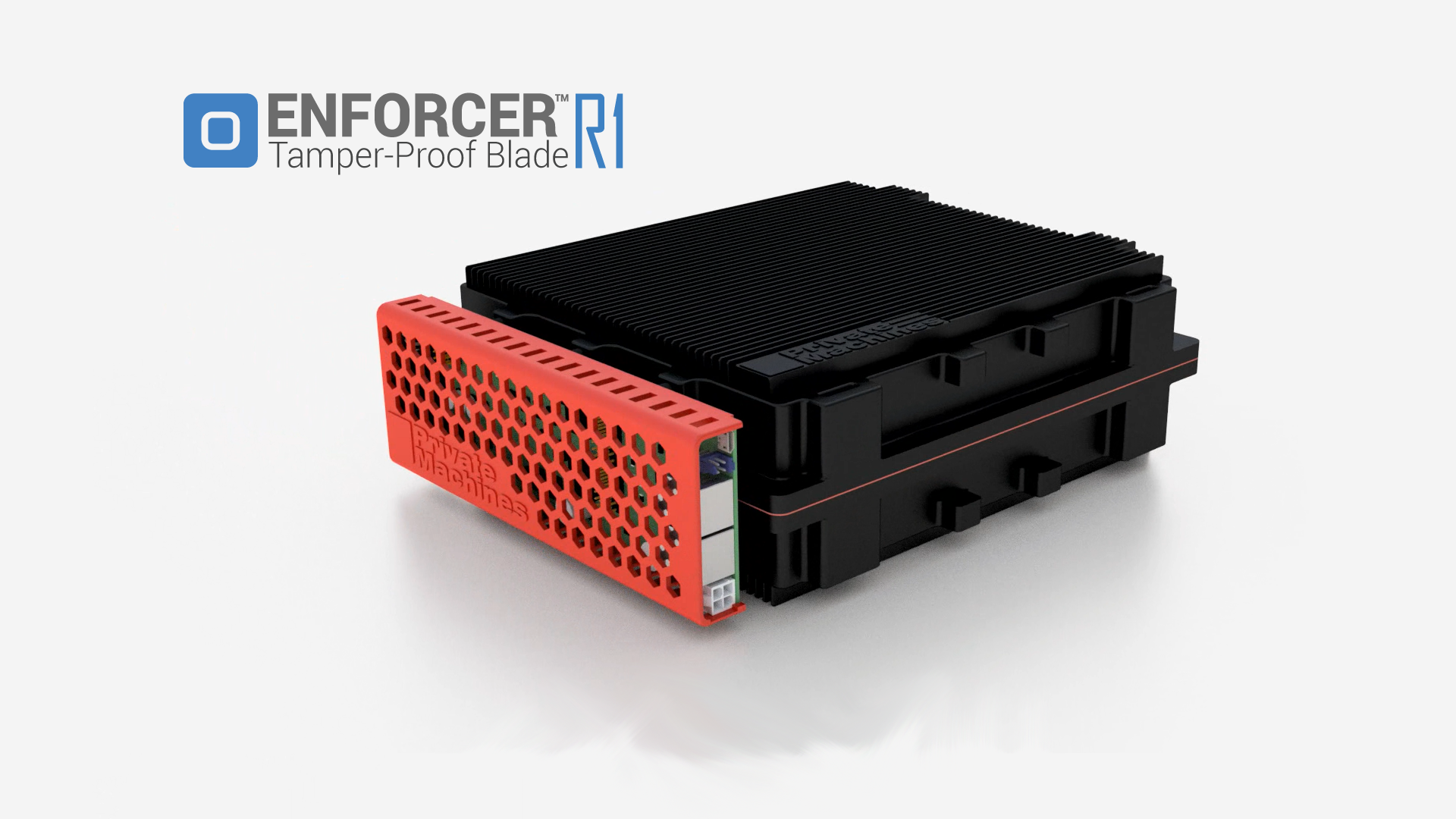 ENFORCER™ R1 Tamper-Proof Blade

ENFORCER™ is the world's first general-purpose NIST FIPS 140-2 Level 4 tamper-proof secure compute node. Initially designed for military applications and funded by the US government, ENFORCER is available for commercial applications where security is paramount.
Learn More
Download Brief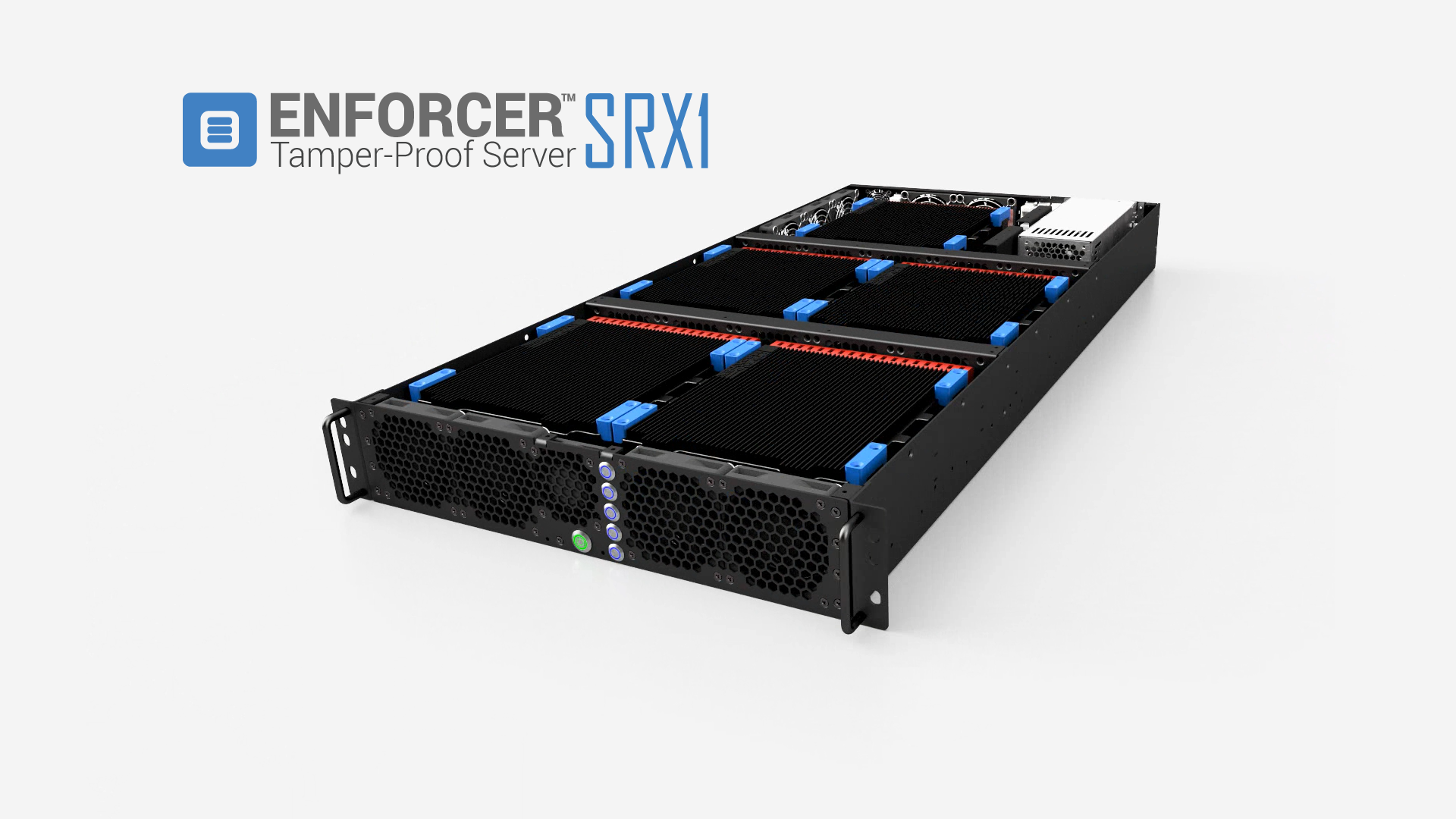 ENFORCER™ SRX1 Tamper-Proof Server

SRX1 is the world's first general-purpose NIST FIPS 140-2 Level 4 tamper-proof secure server with full runtime protection. Composed of multiple ENFORCER R1 tamper-proof blades, SRX1 is cloud-enabled, standard rackable and a drop-in replacement for existing servers.
Learn More
Download Brief
Our company was founded by world-renowned Computer Science PhDs and Professors. We've been doing research in cyber security and cloud computing and building high-performance systems for decades.
No security by obscurity or by marketing. Security is extremely difficult to get right. The devil always lies in the details. We are on a mission to transform enterprise security from the ground-up, in both hardware and software.
HIGH PERFORMANCE MADE EASY
Tech should be practical, easy to use. High performance is paramount. Security should be delivered transparently, work seamlessly with existing applications and not impact performance even at multi Tbps+ data flows.
We are not driven by marketing. We do not rely on vague white papers and sales skills to deliver. We believe in secure high performance infrastructure tech and are driven by a mission to make your stack fast and bullet-proof.
Want to learn more? Ready to request a demo or get a quote? We'd love to hear from you!